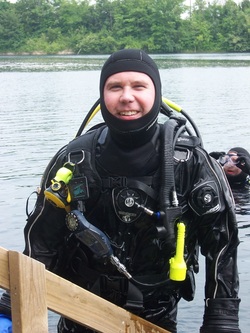 Tired of being cold? Want to extend your dive season? There are so many reasons to dive dry and SASS has the perfect learning tool. It's called the Fusion Dry Suit. It dives like a wetsuit yet keeps you warm since it's a dry suit.
Most dry suits are bulky, trapping a lot of air that can be hard to manage during a dive. The Fusion suit does not. For that reason, we have replaced 100% of our dry suits with Fusions. Take this class and before long, you'll be diving comfortably year around. Once you take this certification class, you will be able to rent a dry suit from any dive store. Or, buy a Fusion package upon completion of this class and GET 100% REFUND OF THIS CLASS to apply toward the purchase!
Cost: $169
Save! Combine the Dry Suit Certification class with Advance or Master class and you will save. You will get this class at $129 plus you can use a dry suit during the Gilboa dives (a $100 value).
2017 Schedule
This certification class consist of one lecture, a dry suit fitting and equipment configuration session and two dives.
June Class: Lecture on June 13 at SASS from 6p-8p, Gull Lake dives on June 14 from 6-9pm

July Class: Lecture on July 11 at SASS from 6p-8p, Gull Lake dives on July 12 from 6pm-9pm

August Class: Lecture on August 14 at SASS from 6p-8p, Gull Lake dive August 16 at Gull Lake from 6-9pm

October Class: 1-Day Saturday class, October 14. Lecture at SASS followed by Gull Lake dives. Time 10am-3pm

Prerequisite:
A basic scuba certification from any agency.
---